Provan is één van de pioniers van de Factory of the Future. Het heeft daarom heel wat zelf moeten uitvinden en leren. wat duidelijk was, is dat het bedrijf écht Champions league wilde gaan spelen. Maar hoe doe je dat? En eenmaal aan de top, hoe blijf je daar?
In een inspirerend artikel van Agoria leggen zij uit hoe zij met behulp van QRM en PROPOS Factory of the Future zijn geworden én gebleven. Agoria sprak met Ben Proesmans – de PRO in Provan – en momenteel Strategic Director International/Co-owner.
Wat was de 'trigger' om aan het Factory of the Future-traject te beginnen?
Ik vond het al meteen een mooi traject dat de lat heel hoog legt en echt een referentie kan zijn en heel onderscheidend voor je onderneming. Als toeleveringsbedrijf moeten wij onszelf elke dag opnieuw uitvinden en dus zit innovatie diep in ons DNA. We wilden de dingen echt anders aanpakken om zo onze concurrenten voor te zijn en te blijven. Daarom zijn we in 2012 aan het Factory of the Future-traject begonnen. Toen al beseften we dat het alsmaar moeilijker werd om in België te (blijven) produceren, met de concurrentie uit lageloonlanden in Oost-Europa en ook China. Ik had nog voor het opstarten van Factory of the Future deel uitgemaakt van een aantal door Agoria en Sirris georganiseerde werkgroepen rond digitalisering en slimme productie en ook al een Masterclass gevolgd van Rajan Suri, een wereldautoriteit inzake Quick Response Manufacturing (QRM) die me echt wel nieuwe inzichten gaf.
We besloten ons dus te gaan onderscheiden door kleinere series te produceren met een grote variatie én in korte doorlooptijden. Kwaliteiten die we nu danken aan die unieke productiestrategie QRM. We waren trouwens een van de eerste bedrijven die voluit voor QRM kozen. De strategie doordringt de ganse organisatie met de focus op doorlooptijdverkorting. Zo komt de nadruk te liggen op 'tijd' in plaats van op 'kosten' met een globale Total Cost of Owernership-verlaging als gevolg. In een zogenaamde QRM-cel worden de machines die nodig zijn om de verschillende opdrachten uit te voeren fysisch samengebracht. Hierdoor worden wachttijden geëlimineerd en doorlooptijden tussen het in productie nemen en het afleveren verkort. Echt een andere manier van produceren dus, waarvoor we onze filosofie helemaal moesten omgooien naar meer flexibiliteit en onze mensen moesten hertrainen, ook naar het nemen van meer verantwoordelijkheid toe. En dat kwam uiteindelijk neer op transformaties in de zeven domeinen van Factory of the Future. Onze keuze om dit traject af te leggen was eigenlijk logisch.
Factory of the Future is als het ware de Champions League en daarin wilden we echt wel meespelen. OK, de lat ligt hoog maar het leek wel haalbaar voor ons. En vooral: die lat blijft hoog liggen, ze wordt nooit verlaagd. We haalden ook het vervolg-assessment, wat bewijst dat iedereen hier sterk betrokken blijft en trots is dat we een Factory of the Future zijn. We willen het dus echt wel blijven. Dat is onze uitdaging: blijven verbeteren, altijd streven naar 'the next level'. Vandaag verbruiken we bijvoorbeeld 15% minder energie terwijl we 20% zijn gegroeid: toch wel een sterk resultaat, niet?
'Meest trots op PROPOS'
Het is moeilijk om er bepaalde zaken uit te lichten, maar op ons digitaal planningssysteem PROPOS, dat we via het QRM-systeem bij BOSCH Scharnieren hebben ontdekt en daar hebben gevraagd of ze dat niet wilden commercialiseren, zijn we toch wel vrij trots. Dat systeem geeft iedereen behoorlijk wat zelfstandigheid en wordt om het kwartier geüpdatet. Het creëert veel rust in de organisatie, omdat iedereen kan zien wat de huidige stand van zaken is en wat er de volgende uren, dagen en weken zit aan te komen. Orders kunnen beter op elkaar worden afgestemd en iedereen is optimaal betrokken. Nogmaals: back to basics. 
Dit interview werd afgenomen door Agoria en is in zijn geheel verder te lezen via: Hoe word je een Factory of the Future? Provan vertelt
Gefeliciteerd Provan!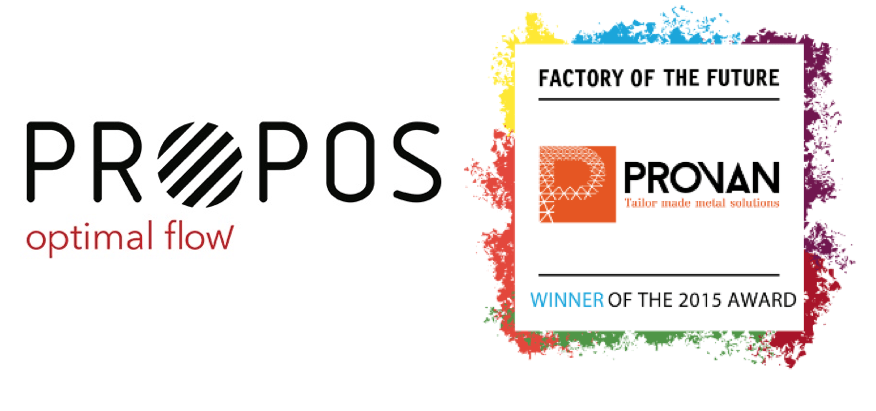 Na de award in 2015 heeft het bedrijf ook de vervolg-assessment glansrijk doorstaan, waardoor het ook de komende drie jaar de titel Factory of the Future mag blijven dragen.
Meer Factory of the Future?
Recent spraken wij met Jan Pauwels, managing director van PMC over zijn drive uit te groeien tot een Factory of the Future. Het resultaat was een openhartig interview over zijn weg 'Van Crisis tot QRM'.
Bekijk ook de winnaarsvideo van Provan!